Douglas Gordon (1956-1998)




On October 16,1998 Douglas Gordon lost his life on the Tsang Po River in Tibet. Doug was participating in a National Geographic Society sponsored expedition in the Tsang Po Gorge in the eastern Himalaya Mountains.
Read More >




River Devil DXpedition

Download River Devil DXpedition Google Earth placemarks [43 kb zip file] for the entire Dxpedition route [Version 1.0 prepared on October 7, 2006]. This is just a preliminary survey. We need to opt for a downstream Dxpedition. So please 'Reverse Order' the points if you feel like! You need to have Google Earth to open the KMZ files.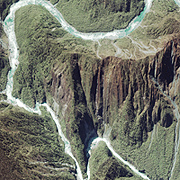 Tsangpo Gorge (Tibet)

View IKONOS satellite high resolution image of Tsangpo Gorge
Why Tsangpo Gorge?

Tibetans believe that the entire Tsangpo Gorge area with the Hidden waterfall, 25,445 feet Namcha Barwa to the South & 23901 feet Gyala Pali to the North are the parts of a living goddess. Namcha Barwa and GyalaPali are her two breasts...the river her spine. In the event of the Earth self-destructing itself, people from the extinct world would sneak away to take refuge in her for their life. The only safe place on earth with waters so pure.

Read Arthur C. Clarke short story:

The Nine Billion Names of God
Tsangpo Expedition


Liquid Thunder


'It's the cradle of Shangri-la, and one of the deepest river gorges on earth. It's a fortress guarding sacred waterfalls, and a cauldron of savage whitewater and unrunnable rapids. In the chill of the Himalayan winter, seven world-class kayakers led a massive expedition into the shadowy realm of Tibet's Tsangpo River , and launched their boats down its roaring throat. They were either going to die—or emerge transformed'-Peter Heller (OUTSIDE) Read More >
Instructions to use the map:
[1] Wait for the map to fully load

[2] If you get a message like 'allow the Signed Java Applet to run'. Do that by clicking 'OK' or 'YES'. It is safe.

[3] Click on the map to activate JAVA control.

[4] Initially when you see the map, you may not see my station icon (my call-sign). This means I have not yet sent my position beacon. Have patience till your browser receives the beacon. In the meantime you can do other works in your computer. Even if I don't appear, say, after 3-4 minutes, this means my systems are off. That's why ask you to fix up a schedule with me for a demo.

[5] When you see my icon with the call-sign on the map, 'CLICK' it. You can see a small text line below the map where my positions and other TEXT MESSAGE appear.

[6] You can read messages at the 'Java Console'. To read messages. Click press the 'M' key on your computer keyboard. Now you can open the JAVA CONSOLE from your Internet Explorer Browser's TOOLS > SUN JAVA CONSOLE
APRS Presentations & Lectures

VU2MUE's personal documentation page archiving his various achievements an credentials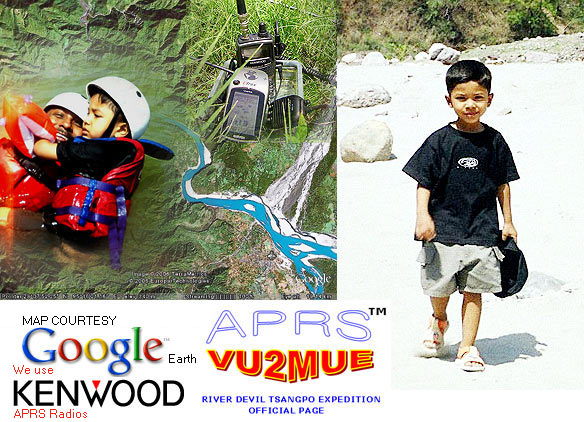 Why javAPRS?

This page uses Peter Loveall's (AE5PL) javAPRS [javAPRS 2.7b24 © 2006 Pete Loveall AE5PL] to demonstrate ham to non-ham communication (Non-hams can only monitor APRS ham activities using their Internet Browsers) which definitely have utility during any emergency situation, like the proposed River Devil Dxpedition to Tsangpo Gorge.

During the demo, VU2MUE feeds the real-time RF (Radio Frequency) data via a KENWOOD radio interfaced to his computer and that data reaches you via the Internet showing his positions & messages on a map (you can in fact track him if you monitor dedicatedly). He uses Late Roger Barker's (G4IDE) UI-VIEW to log-in to Rin Fukuda's (JG1VGX) Tier 2 T2JAPAN APRS server and then the data is internationally distributed from T2JAPAN tier 2 server. VU2MUE can also remotely text message, i.e. even if he is in his boat at a remote place where there is no Internet connectivity or where there is no cell-phone network, he could 'text message' you! In the map below, you can see his car moving in the streets of Delhi when he is QRV on APRS. If you want him to give a demo please feel free to contact River Devil at wolfveng@riverdevil.org or call him. River Devil Core Management Team will inform you with the schedule.



VU2MUE trying the ISS (International Space Station) Digipeater. Click the image if you want it big! A few credentials of VU2MUE here




Click the image for high resolution screen shot

Roger Barker's (G4IDE) UI-VIEW is a popular Windows based APRS application used by hams (radio amateurs licensed by the government) all over the world. UI-VIEW requires a validation from APRS server administrators. Being a ham I always appreciate others also to become hams so that they can also use a beautiful software like UI-VIEW and enjoy the benefits of APRS Technology. Hams in Asia region can contact Art Takashi, JA1OGS for APRS Server validation. Art Takashi, JA1OGS is the official Registrar for Region-3 Asian countries.

javAPRS enables the demonstration of Amateur Radio APRS capability to the non-hams who does not have UI-VIEW (or any other APRS applications) installed in his/her computer. The map that appears below is an APRS map accessible by the non hams too. Text messages originated from RF stations can also be monitored by non-hams which has a utility in ham radio emergency communication [press 'M' and the read message at JAVA Console].



Peter Loveall (AE5PL) during a repeater installation. Peter Loveall took over the javAPRS support from Steve Dimse, K4HD.



Click here to see the River Devil Expedition metaphorical Inauguration Point (If we start upstream!) which is 73.71 km north east of Dibrugarh or click here to download KMZ file to view in Google Earth. [ MIME type for kmz file download not yet added to my server. Rename the file with KMZ after you download it ].

You Need to download Google Earth to view the location

There are many place marks of significance. For example
Click here to see the bridge that we saw near Linzhi Airport in TIBET. click here to download the KMZ file to open the placemark in Google Earth.
This is the only bridge that we located during the entire course of our expedition.

[After downloading, rename the file with KMZ extension]

Download River Devil place-marks for the entire expedition route (Verion 1.0). Places where River Devil intends to stop

Download River Devil place-marks for the entire expedition route (Version 1.1). Places where River Devil tries to trace the entire course of the expedition route